Today April 14th, 2005, would make it 43 years since I met Gord...OMG.. I feel like that mistake only happened yesterday...(small attempt at humour)...anywho I have scanned my diary entry on that date. I am not too sure you can read it and I might have to photobucket again.
I was 1962 I was 17 years old.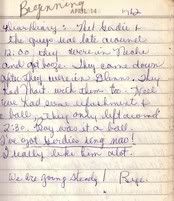 It is obvious from my handwriting at the time that I should have spent a little more time learning penmanship...but I think I was writing this on my bed at 3:00 AM in the morning after a heavy necking session, and a few (refreshments as I used to call them) under me belt. My parents were away for the weekend as you might guess. As I was reading it I was quite amazed how easy it was to get a guy's ring to go steady...some heavy necking, some refreshments...and baby...you are stuck with me for 43 fucking years!!!! or..let's put it this way...I am stuck with you for 43 F*ng years....
If you can't read it..and if this is still of interest to you, it read:
Dear Diary:
Met Gordie and the guys (meaning my girlfriends sort of boyfriend Melvin and Gord and his friend Mart) real late around 12:00, they were in Neche (small town in North Dakota that served minors) and got booze. They came down after they were in Glens (meaning they had a burger at Glens restaurant, and came over to my house..knowing I was "home alone with my girlfriend" because my parents were out of town). They had Mart with them too. (they ditched Mart) Well, we had refreshments and a ball ...I put that in my diary in case my parents might read it...I was fooling those silly parents into thinking I was drinking OJ...yup..I thought I was fooling them.... They only left around 2:30 boy, was it a ball!! (meaning we got pretty close to "doing it..but didn't" ) I have got Gordie's ring now! I really like him alot. We are going steady! Bye
When I was reading further, I must of had a trillion BALLS....everything was such fun..
On one entry I wrote..."when I said I had a ball, it only means that I had a so..so..time..diary" I was confessing my lies... I actually talked to my diary like a friend.
Another entry about 6 months later...was Dear Diary...the novelty has worn off, but I still like him....go figure...and I married him ten years later.
43 years later.... Dear Diary
April 14th, 2005
Gord just got home, and was telling me how he scored a "flap" thingie for our air conditioner in the van that was broken...original cost was 300.00 bucks, and he got it at the wreckers for 20.00. He was standing right beside me at the computer as I was writing this...and I nodded mindlessly and said, 'wow, what a good deal"and then he went on to tell me in great detail, how he took the part off of the old van at the wreckers and stuff...so when he was finally finished, I said "Happy Anniversary"..and he got that "deer in the headlights look" and said .."what anniversary", I explained ..and he said, "how do you remember that shit?" I don't really know how I remembered this today, I turned the little calendar I have on my desk at work, and somehow the date rang a bell, I went home and got out my old diary...and I was right!! All he said was .. "holy shit"...and then headed off the bathroom to ...have one....
Dear Diary.... the novelty has worn off once again.......but I still like him a lot..