It seems like I haven't posted..forever!!
The day started off lazy like. The weatherman, he said -24C,..case closed. I wasn't moving an inch. Of course it was laundry day, I had to get that all started, then my list started to grow out of proportion:
..Put Christmas tree up
..Decorate the premises
..Clean up the mess (I didn't) my downstairs is full of crap. Leave it until next weekend.
..Clean fish tank (with only 1 remaining fish)
..Bring up laundry and fold...and my GDamn jeans were wrinkled again!!
..Iron same
..Sew on missing buttons from Plow Boy's pants and shirts
..Water the poor plants. Well only those that were hanging their heads.
..Spend an inordinate amount of time figuring out how to set up the tree, and change the living room around to accomodate the sucker.
..Dead flies and cobweb removed from behind the couch. How did I miss that?
..Start supper (Sweet and Sour baby back ribs) yummm..it smells delicious..
..Try to play with Penny indoors, she does not understand she cannot go out in this weather. Nor will I. Let's just call her Grumpy ASS. She has no idea how to amuse herself.
So, here it is...getting late again, and Monday on the horizon.
I will leave you with a few pic's I took of Penny on Friday. I took in my bird bath fountain from the deck this fall and placed it beside a tropical plant in the house. It always gets so dry in here in winter I thought if would give up some added humidity. It's working great and I love to hear the trickling water. I working on a idea how to incorporate this into a Christmas theme. But water? nope I need me some ice. I'm still thinking.
So, on Friday I cranked her up, and did what I did in summer, I threw her ball in it. HAA It makes her crazy. She's doing some "sit pretties" in order to rescue him.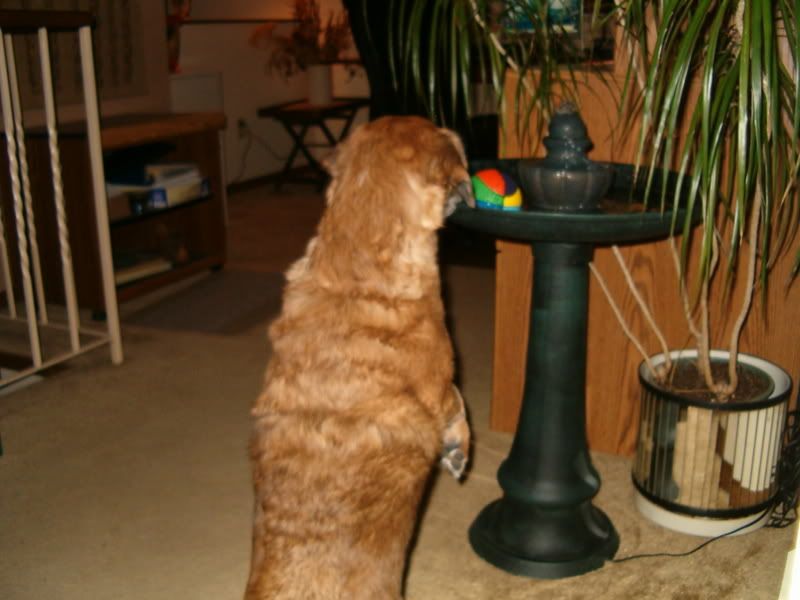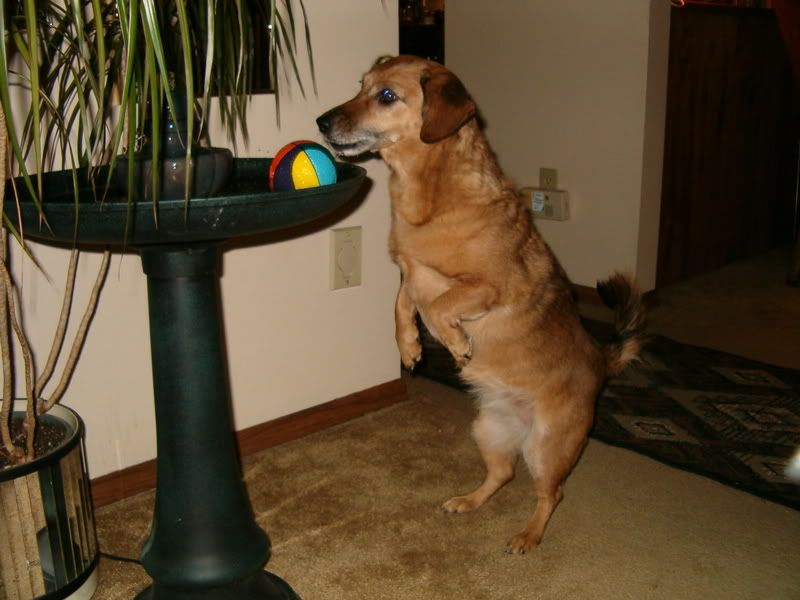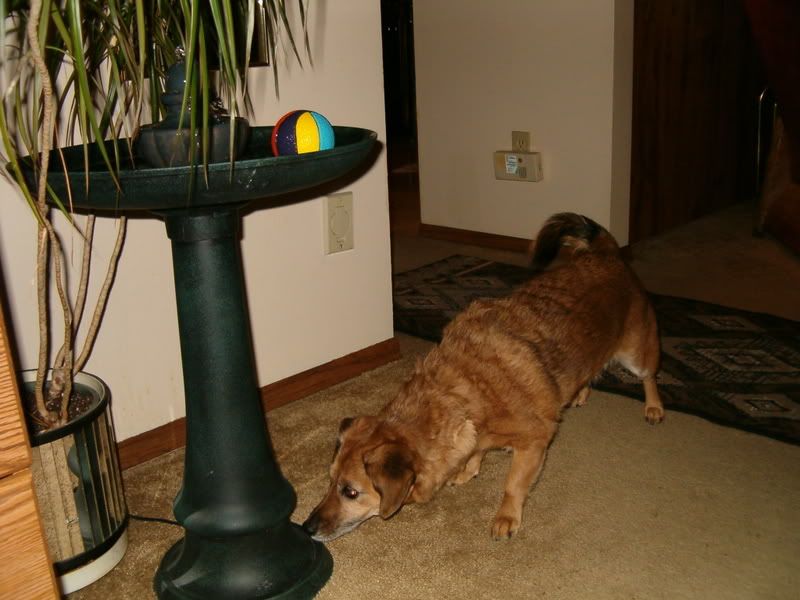 What is her problem? I think it might be a height issue. She loves it.
Right now, I have lost all my options in blogger, for spell check etc. only because I am using my old template and I am half way between heaven and hell. They want me go to all the way!! Fuck that, I'm keeping my Santa template up until after Christmas. Eventually I know they will get me..until then sorry for the typo's.